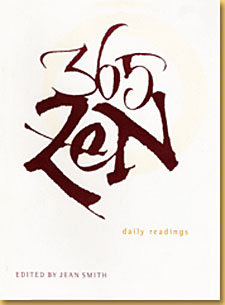 365 Zen: Daily Readings
edited by Jean Smith, Harper, San Francisco, 1999

Welcome the wisdom, inspiration, and humor of Zen into every day of the year. The memorable sayings, teaching stories, poems, and koans offer an aid to meditation for Zen enthusiasts—and moments of reflection for curious newcomers. Drawing from every Zen tradition, including those of China, Japan, Korea, Vietnam, and America, these concise yet profound writings from such modern Zen teachers as Thich Nhat Hanh, Charlotte Joko Beck, Robert Aitken, and Shunryu Suzuki and such ancient masters as Dogen and Joshu illuminate such themes as zazen, nonattachment, karma, emptiness, and enlightenment.
"Watermelons and Zen students
Grow pretty much the same way.
Long periods of sitting 'till they ripen and grow
All juicy inside, but
When you knock them on the head
To see if they're ready—
Sounds like nothing's going on."
— Peter Levitt, One Hundred Butterflies, included in 365 Zen